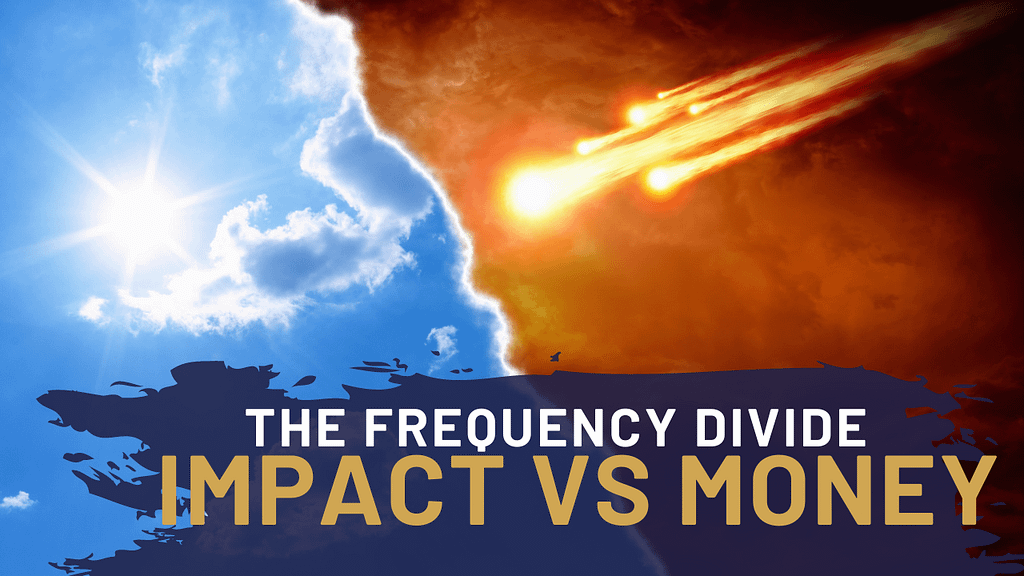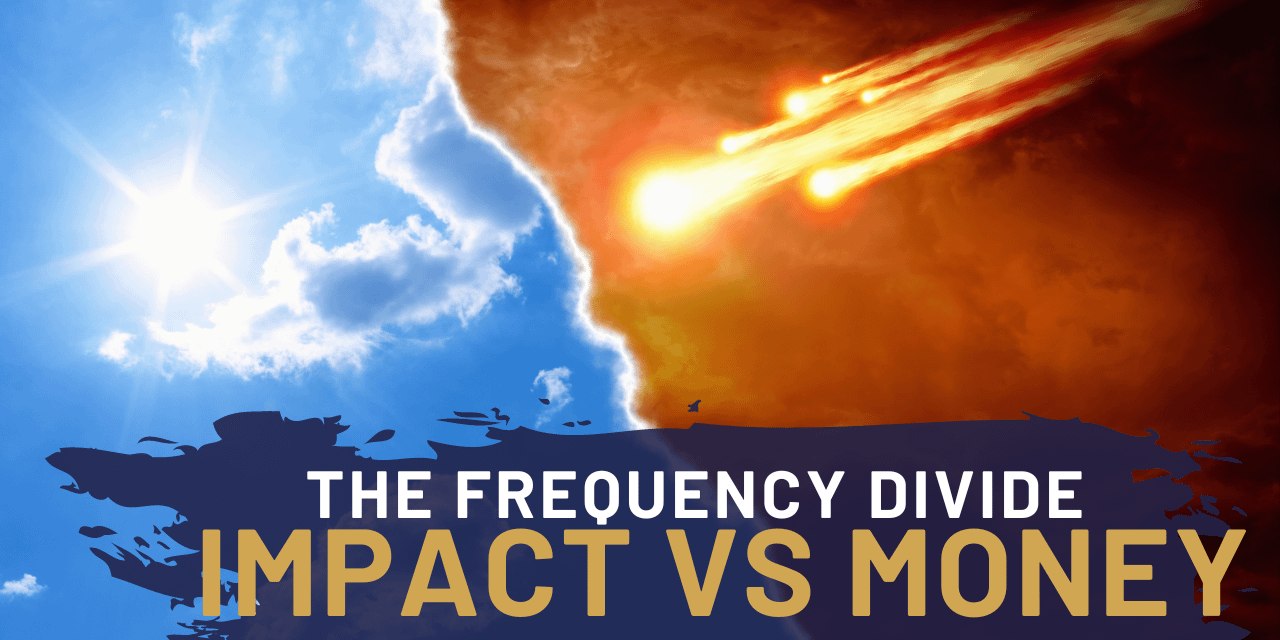 "Profit is the lifeblood of any business!"
This said the client, a CEO of a successful startup. "We have to focus on maximizing profits to stay competitive."
As a leadership psychologist, I have observed time and again that people are wired to chase profit over purpose. It's a phenomenon that I see in managing directors, business owners, and entrepreneurs alike. Despite the growing awareness around the importance of purpose and impact, many of us still prioritize profit and financial gain above all else.
But why is this the case? What is it about profit that draws us in so strongly, even when we know that it might not lead to long-term fulfillment and happiness? To answer these questions, let's dive deeper into the impact-money frequency divide.
The Impact-Money Frequency Divide
At its core, the impact-money frequency divide is about the different energetic frequencies that money and impact operate on. Money is often associated with a lower, denser frequency, while impact is associated with a higher, more expansive frequency.
Think about it: when you think about money, what emotions come up for you? Maybe you feel excited or motivated, but you might also feel stressed, anxious, or worried about not having enough. These emotions are rooted in a scarcity mindset, one that is focused on lack rather than abundance.
In contrast, when you think about impact, you might feel a sense of purpose, inspiration, and fulfillment. Impact is about creating positive change in the world, about leaving a lasting legacy that goes beyond financial gain.
So why do we still prioritize money over impact, even when we know that impact is ultimately more fulfilling? There are a few reasons.
The Power of Conditioning
First, we have been conditioned to value money over impact from a young age. Think about the messages we receive from society: the pursuit of wealth and financial success is often celebrated and glamorized, while making a positive impact is seen as secondary.
This conditioning starts early, from the way we are educated to the role models we look up to. It's not surprising, then, that we often default to prioritizing profit over purpose, even when we know that it might not lead to long-term fulfillment.
Fear and Scarcity Mindset
Another reason we prioritize money over impact is fear. When we're driven by fear, we're more likely to fall into a scarcity mindset, one that is focused on survival and making sure we have enough to get by. This mindset can make us hyper-focused on financial gain, even when it comes at the expense of our purpose and values.
8 Ways How Overcoming the Impact-Money Frequency Divide
So how can we overcome the impact-money frequency divide and start prioritizing purpose and impact? It's not easy, but it's possible. Here are a few tips:
1.Adopt a "purpose-first" mentality
Make purpose the driving force behind your business decisions. Start by identifying the positive impact you want to make in the world and let that guide your choices.
2. Create a social impact team
Form a dedicated team within your organization that focuses solely on creating and measuring the impact of your business. This team can work on projects that align with your company's purpose, track and report on impact, and share successes and learnings with the broader organization.
3. Measure impact alongside profit
Create metrics to track your business's impact alongside your financial performance. This will help you see how your actions are affecting your bottom line and your impact on the world.
4. Partner with purpose-driven organizations
Collaborate with other businesses or organizations that share your values and mission. This will help amplify your impact and create more opportunities for purposeful work.
5. Incorporate purpose into your branding
Make purpose a core component of your branding and marketing efforts. This can help attract customers who prioritize sustainability and social responsibility, and create a sense of pride and purpose among your employees.
By implementing these innovative ideas and other creative solutions, business owners, entrepreneurs, and managing directors can overcome the money-impact divide and make a meaningful difference in the world while still running a successful business.
Interested?  Let's work together.
Are you a

BrainBoss Coaching will help you develop the skills and confidence you need to achieve your goals.
My goal as a leadership coach is to unlock your full potential AND restore balance to your life and work. 
So you can be more productive at work, more effective in leadership, and more balanced in life.
No matter where you are in the world, the sessions are held online on a secured health line.
Contact me today to learn how I can help make things better!  www.brainbossmethod.com