Posts Tagged 'how to overcome anxiety at work'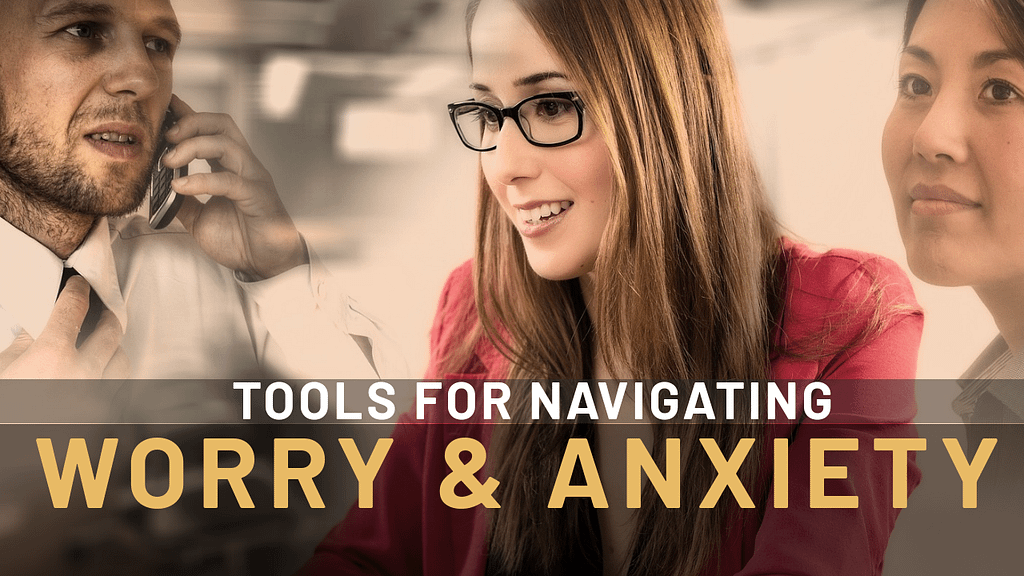 Do questions keep you up at night? Maybe you ask yourself, "How should I react to what my boss said to me today?" "Shall I invest in this venture?" "Will we make enough revenue this month?"
As an executive coach and consulting psychologist, these are familiar questions in my practice. In my coaching sessions, I offer clients a safe place to open up to their thoughts and feelings and learn new ways to accept and deal with them. The aim is not only to find the driving factor behind these worrying thoughts but also to be able to detach from them and act in the best way in a given situation.
We all worry sometimes. It's natural to worry about a granted loan, an upcoming business venture, a new technology or a job interview. At times, that worry might even help you achieve the desired outcome and find better solutions to a problem.
But what if that worry becomes anxiety and disrupts your work performance, quality of work and interpersonal relationships? The National Alliance on Mental Illness estimated that nearly 20% of adults in the U.S. have an anxiety disorder. That's why it's critical to discuss anxiety in the workplace.
---
When does worrying become anxiety?
In my experience, anxiety in the workplace is often indicated by spending most days worrying about future worst-case scenarios and what ifs, as well as being completely caught up in negative thoughts to the extent that it interferes with one's daily functioning. The International Classification of Diseases described in their 10th revision the effects of excessive worry on the cognitive, psychological and vegetative level.
That said, I believe discoveries in neuroscience can inform our thinking and guide us to using the right tools and methods to stay calm and separate ourselves from our thoughts and feelings.
---
What worries the brain?
Constantly expecting negative outcomes and being consumed by negative thoughts and feelings of not being in control is a sign you're caught up in an experience rather than facts.
Research has shown that the amygdala — the primal region of the brain associated with fear and anxiety-related memories — is hyperactive during times of stress and anxiety and releases a chemical cocktail into the body to increase the heart and pulse rate, contract muscles, raise body temperature, etc.
A meta-analysis of research data points to another region in the brain: the posterior cingulate cortex. There is evidence that this part of the limbic system is activated when being caught up with attributes of ourselves and self-related thinking of "I am."
With this in mind, I believe the most important information from the research is that your brain can heighten your sense of anxiety, but that isn't a reflection on you.
Based on these findings, I created the body-mind survey, which consists of three steps to help you navigate and manage your anxiety in the workplace:
---
Step 1: Become fearless in your body.
Feelings are the cognitive awareness of what's going on in our bodies. Tuning into your body's sensations can help you let go of any entanglement with your feelings. So stand still and track your body from your head to your toes.
Observe the sensation carefully. There are areas in your body that hold specific emotions. For example, if you're fearful, you might feel fluttering in your chest, clutching, tension, shortness of breath and a dry mouth. In my experience, when you consciously become aware of your body's sensations, you can become fearless because you're able to manage those emotions and reactions.
Step 2: Breathe to make yourself feel secure.
Notice the area where you feel your body's sensations. Where is it most intensive? Gently breathe in for four seconds and out for seven seconds. As you're breathing in, open up around this feeling and allow your heart rate to regulate. You can also practice this mindfulness breathing for 11 minutes daily, preferably concentrating on your heart.
As a consequence of perceived threat, the sympathetic nervous system is activated, which causes the heart to pump faster than normal. Practicing these deep breathing exercises can help you relax and initiate the parasympathetic nervous system's "rest and digest" response to calm the body down.
Step 3: Invite your thoughts in.
Let your thoughts come to the surface and look at them, rather than suppressing them or being caught up in them. Don't be afraid of what will come up; thoughts are nothing more than words and pictures.
Look at your thinking self as a chatterbox that never stops and always has something to say. Can you notice your thoughts chattering? Ask yourself these questions:
• "So, what is my mind telling me right now?"
• "What does my thinking self have to say about me?"
• "How do I react, and what happens when I have this thought?"
In his book "ACT Made Simple," Russ Harris outlined an exercise to help you separate from your worries: First, contemplate one of your anxious thoughts, and allow yourself to believe it for about 10 seconds. Now, replay that same thought, but start it with the phrase, "I'm having the thought that." For example, "I'm having the thought that I'll fail."
Then, replay it one more time and, again, add a phrase. This time, add, "I notice." For example, "I notice I'm having the thought that I'll fail." Russ also explained that as an alternative, you can sing your thought or hear them in the voice of your favorite cartoon or movie characters. The goal here is to create distance between you and your thoughts. It can help increase your ability to regulate your emotional stress response and manage your identification with your thoughts and feelings.
The body-mind survey can assist you in breaking the vicious circle of worrying thoughts. The more you practice it, the better you'll be able to navigate any feelings of anxiety you might have in the workplace.
This article was first published on forbes.
Interested?  Let's work together.
Consider how you came to be in this situation. Do you need to make some changes at work, a different job, or a more satisfying relationship? Could it help you to speak to a professional? What needs to happen to prevent the same situation from happening again?
My goal as an executive coach and counselling psychologist is to elevate professionals to have a balanced work & life without stress, burnout and anxiety. No matter where you are in the world, the therapy sessions are held online. 4-Hours of my Elevate Intensive and you will improve the quality of your life, switch your body back to peace and balance, and gain clarity and focus.
I hold a master's degree in psychology with an over 15-years career in counseling and coaching. I trained with a broad range of international experts like the world-renowned therapist and pioneering hypnotherapist Marisa Peer (Rapid Transformation Therapy Practitioner®), Rori Raye (Relationship Coaching), and Prof. Dr. Justin Kennedy (Applied Neuroscience Coaching).
Contact me today to learn how I can help make things better!  www.brainbossmethod.com
Register below and receive monthly advice!
Yes, sign me up for monthly newsletter emails from Silk Celia with highlights of her blog and vlog. For more information on how we use your information, check out our Privacy Policy. You can change your mind anytime by unsubscribing.